Oshawa Harbour + Ethanol Plant
Oshawa Harbour Agreement (July 16, 2010 information session)

July 16 - Oshawa Harbour Commission Federal Government media release
July 16 - Moving Forward at the Oshawa Harbour (information pamphlet)
July 16 - Harbour PowerPoint Presentation
---
Ethanol plant proposed for Oshawa Harbour area next to Second Marsh.
Applications have been submitted by FarmTech Energy Corporation (FarmTech) to amend the Oshawa Official Plan and Zoning By-law No. 60-94 to permit an ethanol production facility and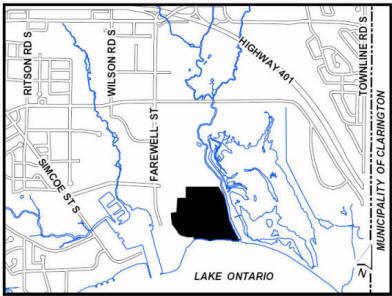 related uses on lands south of the Harbour Road allowance and east of Farewell Street. The proposed facility will manufacture ethanol for use as an additive in automobile gasoline. The applicant's proposal is to use corn as the main ingredient to produce ethanol. However, the applicant has requested that the proposed zoning by-law be flexible to allow other ingredients to be used in the future (e.g. Cellulose).
The subject site is owned by the Oshawa Harbour Commission (OHC). The OHC has provided FarmTech with an exclusive option on the subject site for the purpose of obtaining approvals from the City for an ethanol production facility.
Click here for larger map